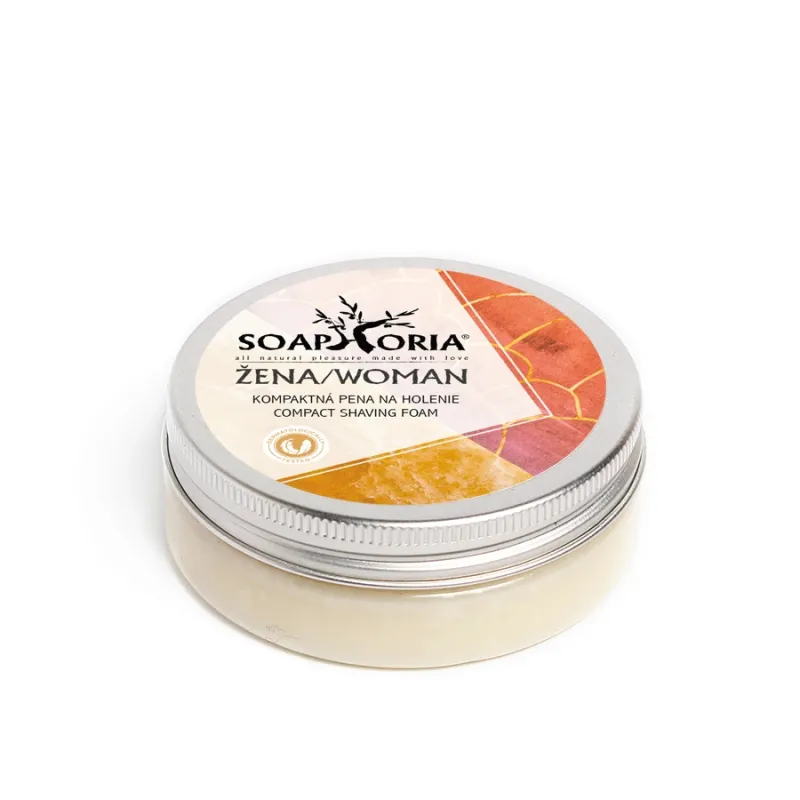 
Woman - Compact Shaving Foam
The compact shaving foam for women is carefully formulated and suitable for even the most sensitive skin. The unique natural composition with the content of valuable emollients and soothing ingredients does not irritate or dry out. With a simple application, it creates an even layer on the surface of the skin, thanks to which it facilitates shaving. It helps prevent unpleasant skin reactions, irritation of delicate skin after shaving or hair ingrowth. The addition of organic essential oils, which smell the skin and lift the mood, will make the cosmetic ritual more pleasant.

The compact shaving foam is ideal for all skin types, including delicate, sensitive and prone to irritation.
MAIN FEATURES
> free of parabens, animal ingredients or irritating synthetic additives
> natural vegan composition with emollient oils such as grape, borage, coconut and apricot does not irritate the skin, on the contrary, it soothes it and helps its regeneration
> does not irritate or dry the skin, on the contrary, it soothes it and helps its regeneration, nourishes and softens, helps prevent unpleasant hair ingrowth
> fine unique consistency adheres evenly to the skin surface after application, making it easier to shave
CONTENTS
50ml
OUR TIP
Apply a small amount of the product in a circular motion to damp skin, ideally after a shower or bath, and let it work for a while for an even smoother shave. After shaving, treat your skin with lavender or hamamel hydrate and apply a light care cream, non-greasy nourishing oil or aloe vera and seaweed gel for perfectly smooth, nourished and soft skin.
OUR RECOMMENDATION
The compact shaving foam perfectly complements the shower gel, foam or cream of your choice. After shaving, we recommend applying a light care and regenerating cream or aloe vera gel.
APPLICATION
Using your fingers, a natural sponge or a shaving brush, pick up an appropriate amount of product and create a foam on damp skin in a circular motion. After the foam has formed, shave the body part to be treated with a razor and then rinse with water at a suitable temperature. It is recommended to use a preservative after application.
WARNINGS
For everyday use. Keep out of reach of children. Store in a cool and dry place, at a temperature up to + 30°C and do not expose to direct sunlight and frost. Do not use on open wounds. In case of contact with the eyes, rinse with lukewarm water for at least 15 minutes without interruption from the inner corner to the outer corner (if wearing contact lenses, remove them in advance). Seek medical attention if irritation develops.
Before the first use, it is recommended to perform the so-called Patch test, t. j. apply and test the cosmetic product for its compatibility on a small area of ​​skin, preferably on the wrist and wait 24 hours. This method can prevent the onset of allergic reactions and hypersensitivity to the product. If an allergic reaction occurs after application, wash the skin surface with lukewarm water. Stop using the product immediately. If the allergic reaction persists for a long time, seek medical attention.
INGREDIENTS
Glycerin *, Aqua, Sorbitol, Sodium Cocoyl *, Disodium Lauryl Sulfosuccinate, Vitis Vinifera Seed Oil * , Borago Officinalis Seed Oil *, Cocos Nucifera Oil *, Prunus Amygdalus Dulcis Oil *, Sodium Chloride, Cucumis Melo Fruit Extract *, Rubus Idaeus Fruit Extract *, Jasminum Officinale Extract *, Pyrus Malus Flower Extract *, Vanilla Planifolia Fruit Extract *, Iris Florentina Flower Extract ) * ,, dermorganics® 1388 (Sodium Levulinate, Sodium Anisate, Glycerin, Aqua), Citric Acid *, Stearic Acid *, *** Citronellol, *** Linalool, *** Limonene
* certified organic ingredient
*** Occurring naturally in essential oils and natural fragrances
 
1 other product in the same category: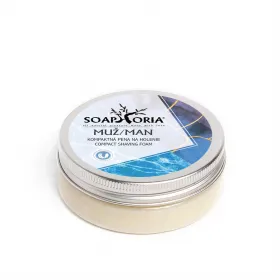 MAIN FEATURES> free of parabens, animal ingredients or irritating synthetic additives> natural vegan composition with emollient oils such as...