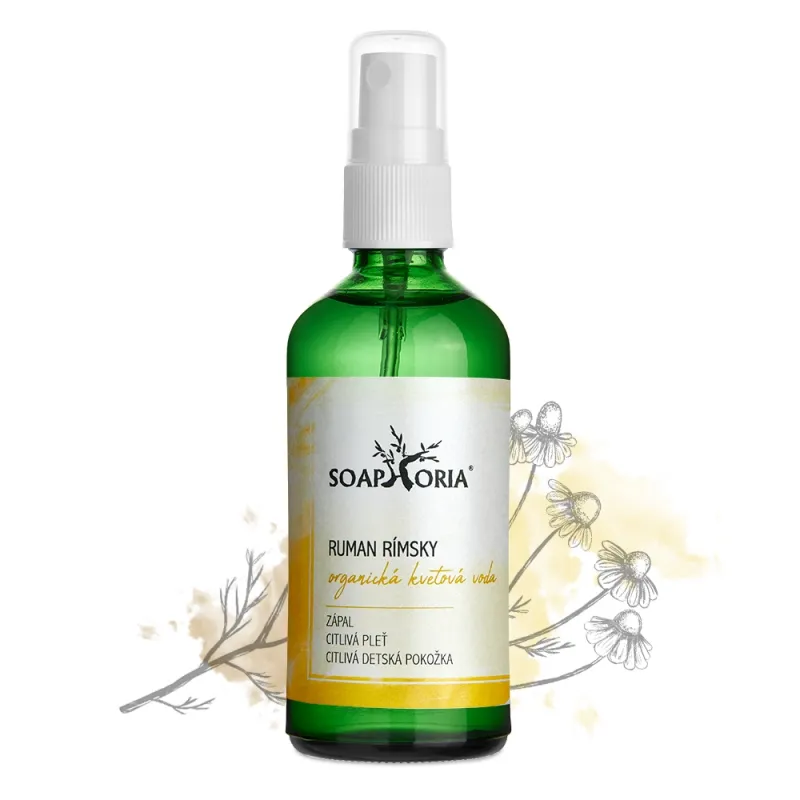 
Chamomile - Organic Flower Water
Organic hydrolate from chamomille is a purely natural skin tonic and at the same time an exceptional means of skin and body care. Extremely gentle skin camomile water is an ideal addition to the care of any skin type, but especially dry, sensitive, irritated, damaged or injured skin. Chamomile is characterized by soothing properties, it also excels in the ability to soothe itching and irritated skin or redness. It is also suitable for the care of sensitive baby skin. It is suitable for make-up removal, cleansing and toning, but also as a supportive means in the fight against acne or unpleasant eczema. It relieves inflammation and swelling and also helps with the contraction of enlarged pores. It is also excellent for the care of sensitive scalp, which soothes, relieves irritation and itching. 100% organic chamomile hydrolate does not contain any additives, alcohol, preservatives or dyes or fragrances.

Organic chamomile water is ideal for all skin types, but especially dry, sensitive, irritated and baby.
MAIN FEATURES
> to soothe irritated skin
> for cleansing and toning the skin
> for all skin types, but especially dry, sensitive and baby
> to support regeneration
> to cleanse and soothe the scalp
> to reduce the external manifestations of acne, eczema and swelling
> to soothe itching and redness
> download enlarged pores
> for damaged, burnt or injured skin  
CONTENTS
100ml
OUR TIP
Use the hydrolate in the morning and evening on pre-cleansed skin. It will also prove to be a base for the application of oil skin products and serums, which are better absorbed thanks to it. They also speed up the absorption of anhydrous products such as cream deodorants, universal balms or body oils and butters.
Apply to skin irritated by the sun or bitten by insects, soothes and relieves itching.
Apply during the day to refresh the skin.
Use as a liquid component when mixing powdered face masks or cosmetic clays for an even better final effect.
OUR RECOMMENDATION
It is recommended to combine 100% natural lotion in the form of a hydrate with skin care products designed for your skin type.
APPLICATION
Apply an appropriate amount of the product on clean fingers or a cosmetic tampon and clean the skin of the face, neck and décolleté, resp. after adding to the powder mask, create a fine facial treatment paste. It is also suitable for the treatment of the scalp and scalp. After adding an appropriate amount of the product (approx. Two tablespoons) to water warm 35-39 ° C, prepare a beneficial bath. The hydrolate can also be applied as a lining, in the form of a dispersion it will permeate the laundry and the interior air.
WARNINGS
For everyday use. Keep out of reach of children. Store in a cool and dry place, at a temperature up to + 30°C and do not expose to direct sunlight and frost. Do not use on open wounds. In case of contact with the eyes, rinse with lukewarm water for at least 15 minutes without interruption from the inner corner to the outer corner (if wearing contact lenses, remove them in advance). Seek medical attention if irritation develops.
Before the first use, it is recommended to perform the so-called Patch test, t. j. apply and test the cosmetic product for its compatibility on a small area of ​​skin, preferably on the wrist and wait 24 hours. This method can prevent the onset of allergic reactions and hypersensitivity to the product. If an allergic reaction occurs after application, wash the skin surface with lukewarm water. Stop using the product immediately. If the allergic reaction persists for a long time, seek medical attention.
INGREDIENTS
Anthemis Nobilis Flower Water
* certified organic ingredient
Data sheet
TYP PLETI

AKNÓZNA / PROBLEMATICKÁ

TYP PLETI

DEHYDRATOVANÁ

TYP PLETI

CITLIVÁ

ČO MA TRÁPI

REGENERÁCIA PLETI

ČO MA TRÁPI

AKNÉ

ČO MA TRÁPI

VYRÁŽKY

VEGAN

yes

LACTOSE FREE

yes

GLUTEN FREE

yes

PALM OIL FREE

yes

FAIR TRADE

yes

RETURNABLE PACKAGING

yes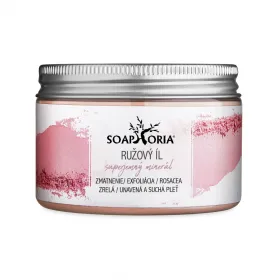 MAIN FEATURES> natural pink clay gently cleanses, exfoliates, helps revitalize and rejuvenate dull, dry and mature skin> relieves dryness,...
MAIN FEATURES> purely natural composition without the addition of dyes, perfumes or other additives> gentle but effective cleansing, support...
ALOE VERA HEALING GEL & SEAWEED Pure AloeVera enriched with antioxidants, minerals and vitamins in the form of seaweed. Non-fragranced healing...
Další produkty ve stejné kategorii: (15)