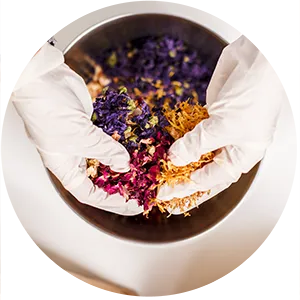 WE ARE A FAMILY COMPANY WITH A FAMILY APPROACH
As a family manufacturer, we really care that our customers are always satisfied. We are a family business and we prefer open communication, while we value every single feedback, request or comment from our customers. The proof is also the fact that we create many novelties and useful products just for wishes!
WE CREATE FRESH CERTIFIED LOCAL, ETHICAL AND ECOLOGICAL PRODUCTS
We make all the products ourselves directly in our workshop, so we can be 100% sure of their freshness. We also place great emphasis on sustainability, the selection of fair trade verified suppliers and the highest quality natural raw materials. Also thanks to this, we managed to obtain the recognized Green Brands certificate, which appreciates the sustainable practices and ecological approach of the entire company.
---
WE ALWAYS ADVISE WILLINGLY, PROFESSIONALLY AND PERSONALLY
Today, our offer is really rich and we know very well that it is not always easy to choose the right product. Our expert for creating recipes and products, Rita, is fully available directly to all those who wish to consult with the selection.
Tip: In addition to personal advice and valuable advice, we also offer many samples!
WE PRODUCE CRUELTY FREE, WE DO NOT TEST ON ANIMALS
Not only the safety of our customers, but also of all the adorable dumb faces is extremely important to us. Our products and the raw materials used in their production are not tested on animals. We are proud that our brand has been approved by the internationally recognized Cruelty Free International certification program called Leaping Bunny.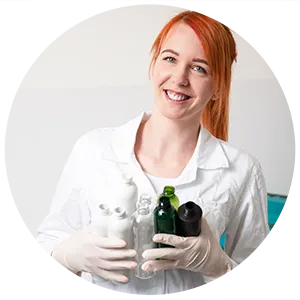 WE HAVE RETURNABLE PACKAGING AND AN ADVANTAGEOUS RECYCLING PROGRAM
We use exclusively recycled and/or recyclable materials for the packaging of our hand-made fragrant specialties. Each package can also be returned! We will take care of finding a reuse and reward the customer with a discount on the next purchase.
Tip: How to upcycle packaging and find your own use for it at home? We offer inspiration directly on our blog ;) 
WE ARE A VERIFIED AND AWARDED SUSTAINABLE ESHOP
Our greatest success is undoubtedly the thousands of satisfied customers who put their trust in us. They also share their experiences with us through reviews of the e-shop or individual products, which make it easier for other customers to choose. We also have a lot of ratings and comments on the independent Heureka portal, from which we also received the Sustainable eshop certificate.
SOAPHORIA STORES WELCOME CUSTOMERS WITH A WIDE RANGE
The Soaphoria range is much more affordable than you might think! We operate our own brick-and-mortar stores in Bratislava and Košice. In addition, however, our products are also part of the offer of a number of pleasant and beautiful partner shops throughout Slovakia and the Czech Republic. In each of them, customers are welcomed with a smile, a good mood and a willingness to advise on the choice.
ALL PRODUCTS ARE AVAILABLE FOR PERSONAL PICK UP
Our customers do not have to rely on the current availability of products in brick-and-mortar stores, or whether the courier will reach them at home or at work. They simply order the products online and pick them up when it suits them. Either in the brick-and-mortar Soaphoria store or at Packet collection points throughout Slovakia and the Czech Republic.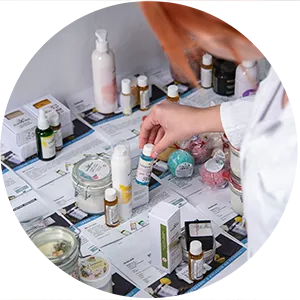 THE SAME PRICES AND ATTRACTIVE ADVANTAGES ARE AVAILABLE ON THE ESHOP AND IN THE STORES
We do not make differences in the prices of products offered online or in our own brick-and-mortar stores. Exceptions may be cases of currently ongoing promotions, either online or in-store, when customers can get their desired products even more advantageously.
WE GUARANTEE FREE SHIPPING EVEN FOR SMALLER PURCHASES
At soaphoria.sk, free shipping is automatically applied even for standard purchases of cosmetics or drugstores for one household ;) There is no need to combine your purchase with the wider area in order to save on shipping. Even in the case of choosing personal collection in a brick-and-mortar store, we only add a symbolic surcharge for packaging and shipping to the order.
---
EVERY PURCHASE IS BETTER WITH THE LOYALTY PROGRAM
Our loyal customers are our family! Everyone has the opportunity to get a loyalty card, even with their first purchase. All other purchases online or in brick-and-mortar stores will be even more advantageous. Regardless of their value or regularity.
Tip: The loyalty discount does not mean the loss of the right to benefits from the recycling program
VOTED: THE SCENTEST PRODUCTS MAKE THE SCENTEST GIFTS
According to customers' votes, our products are the best-smelling natural cosmetics ever! In addition, 10 out of 10 Soaphorists recommend giving Soaphoria products to their loved ones as well - the joy of wonderful original natural scents and pampering formulas is contagious ;)