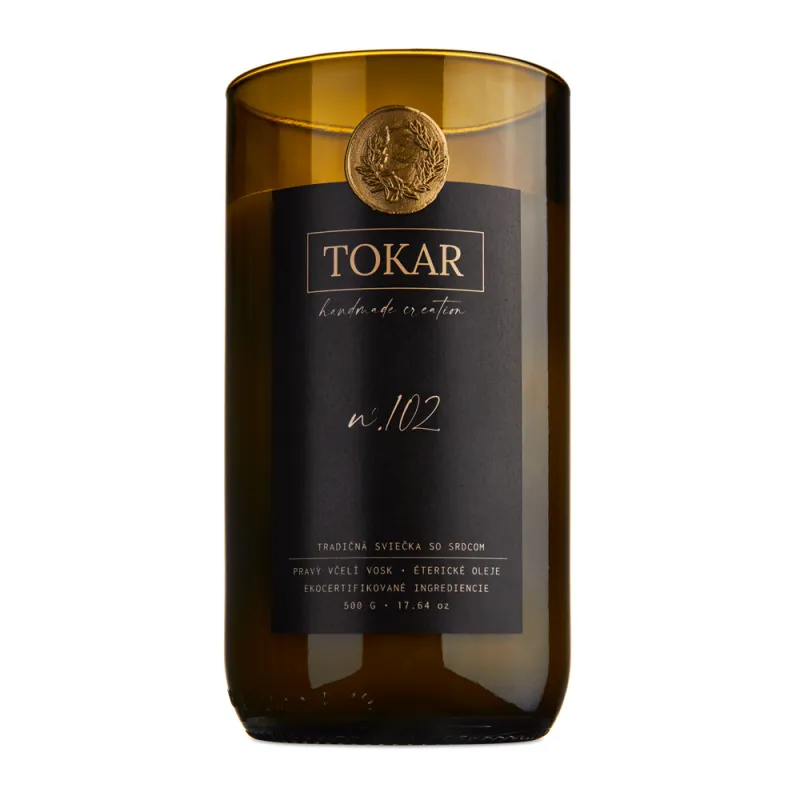 
TOKAR Handmade Creations - Eco Candle N.102
The unique collection of craft candles with a deep heart represents tradition, timelessness, ecology and sophistication in a unique combination. The elegant glass container in a mysterious green-brown version is filled with an aromatherapy mixture of real beeswax and complemented by a double wooden wick. Thanks to the added mineral pearlescent pigments, the candle creates a breathtaking harmony of embodied fantasy when heated. Liberating fragrant compositions elevate elaborate and complicated fragrant essences, which bring unusualness to everyday life and inevitably affect the mind, body and soul.
Ritual of inner strength
The essence of Inner Power pays homage to the Buddha's teachings, which are four noble truths: there is suffering that has a cause, but it can be ended because there is still a way. A path that can be smooth, but also winding and dark, but especially necessary for self-knowledge. That's why we've packed stimulating and stimulating citrus chords from bergamot, mandarin, orange and lime peel in a long way with the resinous scent of Luzon canary. The composition creates deep, even spiritual thoughts thanks to the woody and earthy scents of sandalwood, Himalayan and Atlantic cedar wood and intoxicating geraniums. The whole composition is combined with pure ladan, fragrant patchouli, a pinch of warm vanilla with moss tones. Birth and death, love and cruelty ... Change and permanence. Everything in life has its justification, and one must realize one's ignorance and connection that the raw strength of muscles does not make us powerful. Learning is the only source of wisdom and inner strength. Let us determine and insist on our values!
Další produkty ve stejné kategorii: (2)
Rituál vnitřní energie Esence Vnitřní energie se povznáší sankristickými asánami pro pocit příjemného uvolnění. Smyslem a cílem vibrujících...
Rituál vnitřní radosti Esence Vnitřní radost je inspirována japonskou filozofií Ikigai pro podporu povzbuzení mysli k radosti a umocnění pocitu...